SEX TIPS
All About Anal Play & Backdoor Action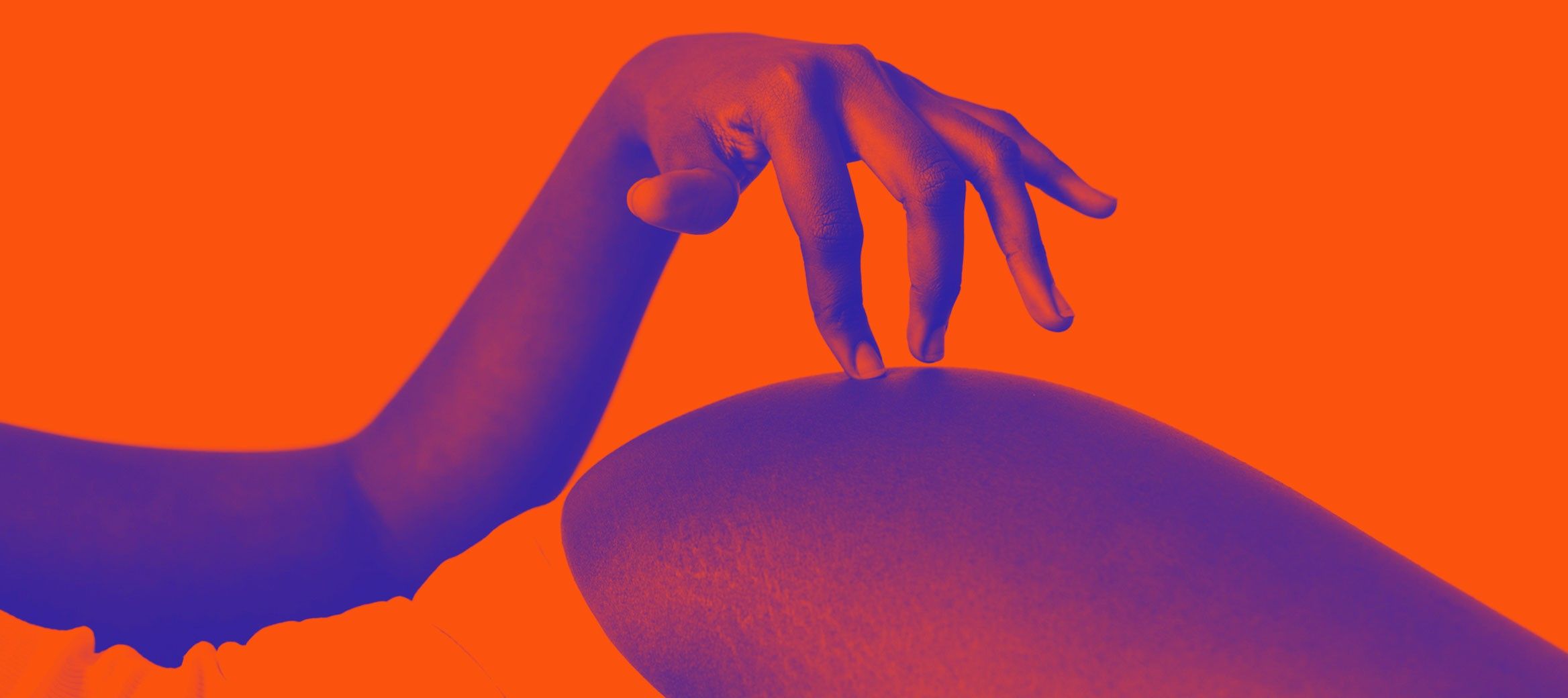 For some people, butt play is already an integral part of what they do with a partner or alone, and with good reason-anal play can feel great. The anus has a lot of nerve endings and, for people with penises, a connection to the prostate that can offer powerful orgasms.
These days, the media is rife with sly mentions of anal sex and porn is all about the backdoor action. Yet, for some it remains the last frontier of sex-partnered or solo-a place they may not yet be willing to bravely go.
We get it, there's still a little bit of taboo around anal and some may wrongly assume that it's just for men who have sex with men. The truth is that people of all bodies and genders enjoy the sensations of dallying with this sensitive spot and butt play only includes penetration if you want it to. Toys, fingers and tongues mean that the possibilities are endless.
But you have to be comfortable sharing this part of your body, so talk to your partner and be honest about what you've tried, what intrigues you, and what makes you feel a little squidgy. Or take the first pass at butt play by yourself when you have total control over the situation.
Whether you're ready to go or still thinking about it, here are some tips to get the most out of backdoor play.
What is Anal Play?
Anal play or butt play is any sexual behavior that involves stimulating the anus. This can include penetration with a penis, finger, or sex toy but it can also be touching or licking this sensitive area. People of all sexes and genders enjoy backdoor sex either by themselves or with a partner.
Is There More to Butt Play than Anal Sex?
When we think of butt play, we often go right to anal sex which makes some people nervous. Anal sex is just one way to get pleasure from behind. Many people enjoy having fingers (their own or their partner's), tongues, or sex toys stimulate the area around the anus which has a lot of nerve endings.
If you're at all hesitant, take butt play slowly and don't feel like it has to end in anal sex. See if you like touching your anus or having your partner touch it. If you do, great, try a toy or a tongue. If not, that's okay too. There are lots of other body parts to play with.
Is Anal Play Safe?
Just like with any other type of sex, the risks of butt play really depend on what you do. Solo anal play has no risks and you can't get pregnant from even couple's anal play. Still, some STIs can be transmitted through anal sex or rimming. Consider using condoms or dental dams to reduce this risk.
You should also know that the skin around the anus is very delicate and can tear easily, which can make you more susceptible to STIs (not to mention these tears can be painful). This is why it's really important to use lube during anal play, especially if anything is going inside the anus.
Finally, we have to say a few words about poop. The anus is where poop comes out and if you're playing with yours or someone else's you may encounter some (though usually it will just be trace amounts). To cut down on this possibility, you or your partner can try moving your bowels within an hour of getting down to business to make sure there's nothing in the rectum and possibly hop in the shower to clean the area.
Even if you've done this, however, you should never put anything (a finger, penis or sex toy) that has been in the anus into the vagina until it's been thoroughly washed. Germs common to the anus, like e-coli, can cause vaginal infections. They can also make you sick to your stomach so wash your hands carefully as soon as the fun is over.
How to Talk About Anal Play
Anal sex is not nearly as taboo as it used to be, but it can still feel awkward to talk about what we like, hate, or really want to try when it comes to our butts. Here are some common slang terms for types of anal play that may help in certain conversations, but if you're talking to a partner about what you do and don't want to try, it's a good idea to skip the clever phrases and be as clear and direct as possible.
What is the Reach-Around?
"A reach-around" is when you're having one kind of sex with your partner (oral, anal, or vaginal) and you reach around their body to touch something else. Like rubbing a clitoris during vaginal sex from behind or tickling an anus during a blowjob. This can be fun, but you need to get consent first.
Butt play may make some partners uncomfortable at least at first, so don't do it as a surprise. Talk to your partner before things heat up to decide together if this sensitive spot is in-or out of-bounds.
What is Prostate Play?
People with penises also have a prostate which sits inside the body under the bladder and adds fluid to semen. It's sometimes called the p-spot (like a g-spot for vagina-havers) because many people find it pleasurable when this walnut-side gland is stimulated. Prostate play often involves the anus.
There are many ways to stimulate a prostate. The prostate swells when you get excited, so it is possible to put pressure on it by massaging the perineum (the area between the scrotum and the anus sometimes called the taint). You can also put pressure on it without penetration by pushing on the anus with a finger, penis, or external sex toy.
But the most direct way to get pleasure from the prostate, and possibly experience a prostate orgasm, is through anal penetration. Fingers work well because you can sometimes feel the prostate along the top wall of the anus or try a sex toy designed for just this purpose.
What is Pegging?
Pegging usually refers to a woman using a strap-on dildo for anal sex with her male partner. Some couples find this role reversal very sexy. The truth is that anyone can use a dildo (strap on or otherwise) on their partner's anus regardless of their gender or body parts-we all have butts.
Just remember, for safety reasons you can only use toys with flared bases for anal penetration.
What is Rimming?
Analingus or rimming is stimulating your partner's anus with your tongue. Sometimes it's referred to as a rim job or a tossed salad. Rimming can include licking the area around the anus and the anus itself or it can include penetrating the anus with your tongue.
Why Consider Solo or Couples Anal Play
Your anus has tons of nerve endings in it and playing with it can feel good. Adding butt play to your bedroom repertoire can make a new relationship even more exciting or get a long-term couple out of a sex slump. Adding it to your masturbation techniques can give you more orgasms and more information about what gets you off that you can share with current or future partners.
The truth is that many of us are so focused on our genitals and having an orgasm that we sometimes forget exploration can be the best part. We have a lot of erogenous zones-our nipples, ears, necks, inner thighs, and, yes, our butts. Spending time enjoying your whole body (or someone else's whole body) can be fun and informative.
Who Enjoys Anal Play?
While we may be a little reluctant to talk about it with our sisters, moms or best buds, a lot of people really enjoy butt play. This is not limited to any one gender or orientation. A national survey found that 43% of heterosexual men and 37% of heterosexual women, for example, had had anal sex, and that same study found that lots of men and women thought anal sex and playing with anal toys sounded appealing.
When it comes to sex, an anus is the one body part we all share which means we can all try a little butt play and see if we like it.
Butt Play Tips for Beginners
If you've never tried anal play before it's normal to be a little intimidated or nervous. Take it slow and make sure you're comfortable with your partner and that you've talked about everyone's boundaries in advance. You might want to start exploring by yourself instead of with a partner, that way you have complete control the first few times. Here are some butt play tips for beginners:
Do a little prep: We talked earlier about trying to empty your bowels and clean yourself before butt play (if you can't shower, a wet wipe of some kind should do), but there some other things to think about. If your fingers are going into anyone's anus, trim your nails to limit the risk of tears to anal tissue or consider a finger cot (a latex cover for your finger). Have condoms or dental dams on hand (hint: you can use a condom on a sex toy to have easier clean up). And don't forget the lube, you need a lot of lube (see below).
Relax: This can be hard if you're nervous but when we get scared, we tighten our muscles, and the anal sphincters is a muscle. Do whatever you can to get relaxed. Take a bath or a shower (hot water relaxes muscles) or ask your partner for a massage.
Work up to it: If you're new to anal play, it's probably best not to start there. Get turned on first. If you are alone, work on your clitoris or your penis first, and if you're with a partner try some other kinds of foreplay before you reach around.
Kick off on the outside: There is a lot to butt play other then penetration. Try using fingers on the outside of the anus first. Put a little lube on them and rub them in circles. If you or your partner has a penis, you can push on the anus from the outside or tap it gently to add some p-spot stimulation.
Start Small: If you do decide to engage in penetration start with something small. Fingers are usually best for the first time because they're pretty skinny. If you like it you can work your way up to sex toys or a penis.
Lubes: An Important Part of Anal Play
The skin on the anus is delicate and can tear easily. To cut down on the friction that can cause tears, you need lube. Lots and lots of lube. Remember, unlike a vagina, the anus does not create any of its own lubrication. You will have to add it all yourself.
The best lube for anal sex might be those that are silicone-based because they're super smooth and last a long time. But silicone lube and silicone sex toys are not necessarily great together. If you're using toys, you might want to choose a water-based lube instead. And if you're planning on butt play in the shower, consider a lube made for slippery bath time fun.
What are Anal Beads, Plugs & Other Butt Play Toys?
There are a whole host of sex toys designed for the anus so you should be able to add a bit of buzz to your butt play pretty easily. Any wand vibrator can be used on the outside of the anus and a lot of people enjoy vibration in this area.
The most common toy for anal penetration is called a butt plug. These toys come in a lot of shapes, sizes, and materials, and some of them also vibrate, but they all have a piece that gets inside and wide base at the bottom that stays outside the anus. This is very important because objects without a base can get stuck or lost inside the rectum which is a situation that requires immediate medical attention.
Prostate massagers are sex toys designed to hit the spot, the p-spot that is. Think of them as rabbit vibes for penis-havers. They come in a bunch of shapes and sizes, but most have one part meant to go into the anus and other that stays out and stimulates the perineum.
And we can't forget anal beads. This is a string or line of little spheres or ovals that get inserted into the rectum, with a ring that stays outside. The sensation is different than having a toy or a penis inside because the beads are so small but the act of putting them in and pulling them out can provide a lot of pleasure. For anal bead play, insert them in your partner's anus while you're giving him a blow job or having vaginal sex with her and then pull them out slowly just before they orgasm.
Remember to clean your sex toys well when you're finished-soap and water will do the trick-so they're safe and ready for the next time.