Product 101
How Big and Long Are Magnum™ Condoms?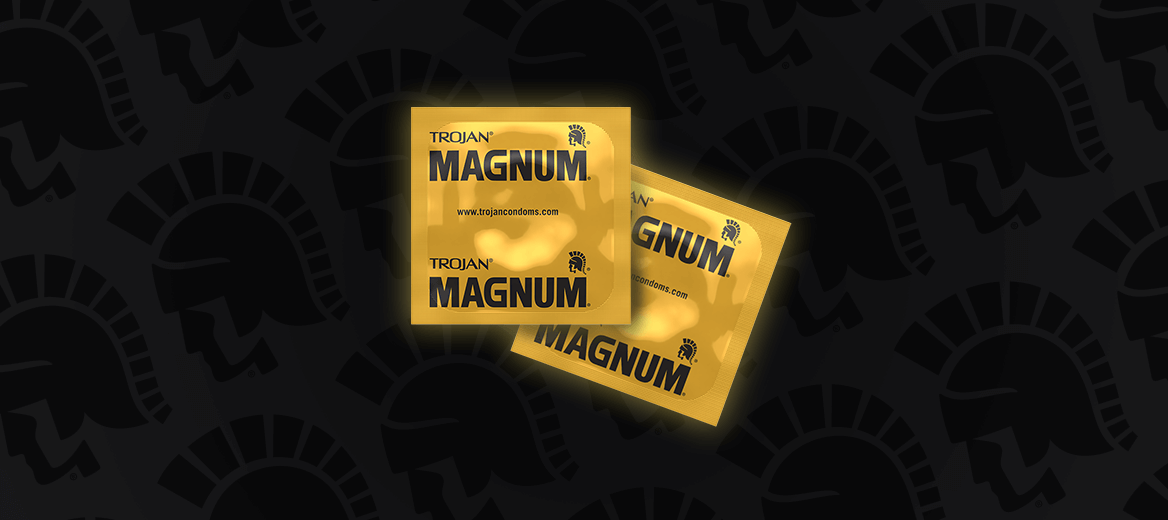 The distinctive black box and gold wrapper of a Magnum™ large size condom on your nightstand or peeking from your pocket lets your partner know you are big and long enough for a condom that is up to 30% larger than standard size. But just how big do you have to be for a Trojan™ Magnum™? Read on.
How Big Do You Have to Be for a Trojan™ Magnum™?
If you're wondering whether you can fit a Magnum™ condom, you're not alone. Finding the right condom size, fit, and feel can be harder than many people think. In general, if you're in the average range for penis girth (4"-5") and length (5"-7"), you'll be better served with one of our classic Trojan™ condoms. Magnum™ condoms are either longer or wider than standard-sized condoms.
Remember: condoms need to be tight at the base to prevent slipping off. Being a bit tight is better than too loose when it comes to condom performance and protection.
Not sure where you fall in the range of condom sizes? Learn how to measure your penis with our condom fit guide to see whether a classic Trojan™ or Magnum™ is right for you. There are several styles and sizes of Magnum™ condoms, so one may fit and feel better than another -- every person (and penis) is different.
How Big are Magnum Condoms?
A Magnum condom may be larger in length, width or both. While you can use a condom that is longer than you need (you don't have to unroll a condom all the way to use it), you don't want to use a condom that is too wide for your girth. Condoms that are too loose are in danger of it slipping off during sex -- and that's no bueno.
There are two main shapes of Magnum™ condoms, tapered and bulbous. Magnum™ Original Lubricated, Magnum™ Thin, Magnum™ BareSkin™, Magnum™ Ribbed and Magnum™ XL are tapered - a bit tighter at the base than they are at the head - and have a reservoir tip. Magnum™ Ecstasy™ has a bulbous shape that is tighter at the base and significantly roomier at the head for more movement and sensations, and no reservoir tip.
Whether a Magnum™ condom fits depends partly on which Magnum™ option you choose. Refer to the chart below to see how the length, base width, and mid-shaft width measure up for the different Magnum™ styles.
Trojan™ Magnum™ Condom Dimensions & Size Chart
How Long are Magnum™ Large Size Condoms?
Magnum™ condoms tend to be longer than standard condoms. To help protect you from sexually transmitted infections, you need full coverage of the penis head and shaft. A standard size condom being too short is one of the reasons many people reach for the gold wrapper as their go-to protection.
You can use a condom that doesn't unroll all the way down your penis. Some find the band of material at the base from not fully unrolling hinders their erection, while others find it pleasurable and sustaining, like a cock ring. You'll have to experiment to see how it feels to you.
How Much Bigger are Magnum™ XL Condoms?
As you can see from the chart above, the dimensions of Magnum™ condoms vary somewhat, all while being larger than standard condoms. In general, Magnum™ condoms are about 30% longer or wider than standard condoms. Magnum™ XL are the widest condoms Trojan™ makes, and some of the widest condoms available.
According to several medical studies, the average penis length in the US is ~5.6" and the average girth is ~4.7". Standard condoms are sized for these averages and larger condoms like Magnun™ are longer or wider. If you've found standard size condoms to be too tight, interfere with your sensations or erection, or break often, you may be better served by a larger-size Magnum™ condom.
As with all condoms, Magnum condoms do expire and lose their effectiveness, especially if you keep them in your car or your pocket. Review the do's and don'ts for condom storage and expiration to make sure you're taking care of your condoms so they'll take care of you when you're ready.