SEX TIPS
14 Hot Tips for Long-Distance Sex & Virtual Hookups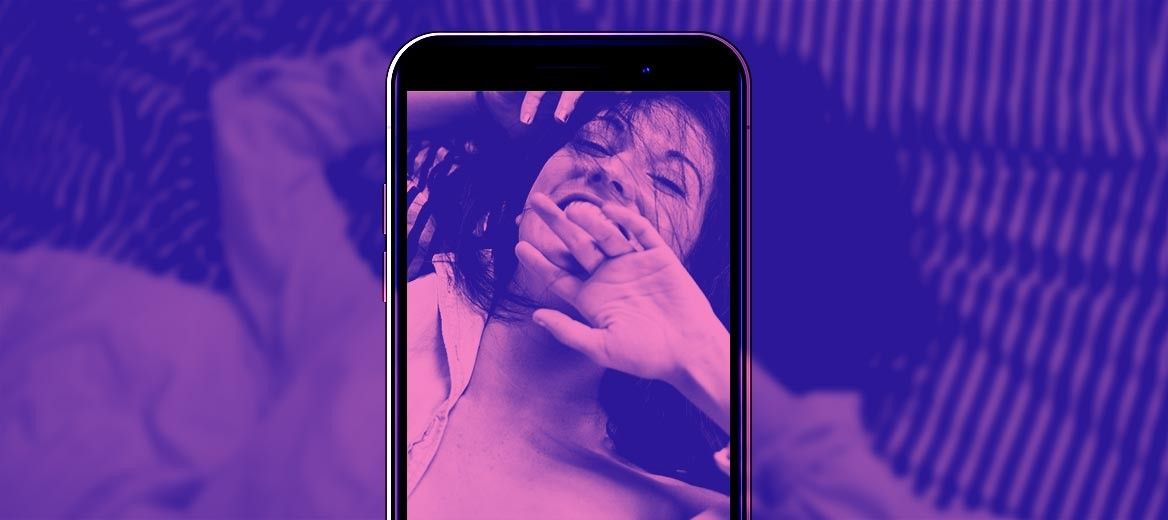 Being long-distance from your partner doesn't mean you can't still get it on. It just means you have to get creative. The COVID-19 pandemic gave us more tools and practice when it comes to hooking up at a distance, but just as with physical sex, there is meh, good and great video sex.
Whether you head to Facetime, Zoom, Signal, Skype or the video call button on your phone, there are plenty of ways to get close to your partner when you're not physically close.
Getting Closer at a Distance: Long-Distance Sex Tips
When you're in a long-distance relationship or separated from your sweetie, it's normal to miss physical closeness and simple things like holding hands or cuddling. If you're away from your partner, whether for work, travel, family reasons, or quarantining, you can use technology to help you, uh, come together.
Getting together for a mutual masturbation virtual hookup over Zoom, Skype, Facetime, or whatever video program you choose allows you to make eye contact with your partner, see their body, hear their voice, and imagine yourselves being physically closer. It also brings opportunities for some sexy play that will make memories and leave you feeling satisfied.
Here are 14 tips for long distance hookups, better video sex, and other tips for keeping the fire alive in long distance relationships.
1. Safety First
Just as with in-person sexual activity, you've got to take care of safety and consent first. While you don't need a condom for your computer or phone, you do need to be sure you've set up some privacy barriers for your protection. Here are some tips:
Set up a dedicated, anonymous, or encrypted account to use for video sex and nudes. Pick a platform that you don't use for anything else so you don't accidentally get zoombombed or mix up a work and play login. It is usually safest to choose a platform that has end-to-end-encryption.
Check your privacy settings and set them to the most restrictive. Ask what your partner's privacy settings are and if they plan to record or screenshot the call.
Just as you would if you were having sex in person, make sure you have established boundaries and have full consent before beginning.
Decide whether you will show both your face and your genitals in pics or in a video call. Only showing one or the other is safer should pics or video get compromised or deliberately shared against your wishes.
2. Start with Sexting
In socially distanced sex and mutual masturbation, sexting = foreplay. Just make sure notifications are off if you're sharing your screen during the work day, or better yet, use a dedicated app that you don't use for work or other communications to keep sexts separate and more secure.
Flirt throughout the day before your video session later.
Send sexy emojis or pictures to increase desire and turn your partner on.
Send short voice clips through messages so you can use your bedroom voice or tell them what you're hoping to do later.
Consider short video clips as teases for longer sessions.
3. Watch a Romantic or Erotic Movie Together
It's easier to watch a movie with friends or partners at a distance with some new online tools that allow you to see the people and the media at the same time. Try hosting a watch party on a video platform or do it the simple way by bringing up the same title in the same app and doing a countdown to pressing play to watch simultaneously while you're on the phone together (voice or video). Pause when you get hot and turn your attention to each other - and yourself.
4. Schedule a Virtual Date & Hookup Session
Make it a virtual date night and have something to look forward to. Just as you would if you were going out together in person, get yourself ready in date clothes and/or makeup and meet up at an arranged time.
Consider starting with something casual like you would do on a date like having a meal together, or getting drinks or coffee. You can cook a meal together, or plan out the ingredients or what's on the menu beforehand so you're eating the same dish or type of food like you would in a restaurant. After dinner and drinks, then move more organically toward sex, just as you might after an in-person date.
5. Decide What (Not) to Wear
Ditch the sweatsuits during video chats with your partner (unless that's your thing). When you're prepping for a virtual hookup, try wearing an outfit that makes you feel sexy or something you know your partner likes. Maybe it's something your partner has sent you in the mail prior to your "come together" session.
You can also vary how much you're wearing, depending on whether there will be on-camera slow stripping or you're under a blanket or towel and then quickly nude.
6. Send a Toy or Item of Clothing to Your Partner
Something fun to spice up your video sex hookup can be to order a surprise for your partner online and have it delivered to use or wear at your next Facetime sex session. You can do an unboxing of the gift live on the video call so you can see your partner's face when they discover the surprise and explore its possibilities.
This can be a one-way exchange (you sending a gift) or both of you send a surprise to each other and then open on camera simultaneously to then wear or use your gifts at the same time.
7. Set the Stage for Your Virtual Hookup
When you're planning a long distance virtual hookup, it's time for you to think like a director to set the stage and control what your partner sees on the screen. Think about things such as camera angles, lighting, music, costuming, makeup, wide shots or close-up shots, etc. Try using mood lighting such as LED lights or candles (flickering LED if open flames are a no-go), or sound (a favorite playlist, perhaps?) to create a sexy scene. Think about what you can see in the background - your dirty laundry or a moldy glass you have forgotten to take to the kitchen isn't going to be sexy on screen or in person.
For your safety, consider not having any identifying objects that would give away your location or your name in the background. The safest background to use for a video sex session is a virtual background that will obscure your location altogether.
Again, depending on your trust level with your partner and your personal privacy concerns, decide whether you'll keep your face out of the frame with your genitals or show just the face and no genitals (and have your partner imagine what you're doing to cause you to make those faces and noises).
8. Find Your Inner Domme: Tell Each Other What to Do
Virtual hookups can be a great place to explore some task direction for your partner, trying on dominating the scene or being submissive to your partner. You can also switch it up with who's topping and who's bottoming alternating at a distance.
Try telling your partner specific things they should do to themselves, such as where to touch, to squeeze a dollop of lube between their legs, to use a toy in a specific place, touching themselves with a feather or an ice cube or another object that provides sensation, how fast or slow, what clothing to remove, whether they can talk, etc.
9. Dirty Talk
Words paint vivid pictures in your head and hearing your partner's voice is a turn-on. Not sure what to say? Try these suggestions:
Narrate to your partner how you are touching yourself so that they get turned on - and learn some tips for how to please you the next time you are together.
Describe what you would like to do with your partner, where you would like to touch them, and how, then touch yourself doing these things.
Talk about your fantasies and make plans for the next time you can be physically together.
10. Take a Bath Simultaneously
If you're new to virtual hookups or feeling a bit nervous, taking a bath separately and together over video creates a good alibi for being naked. Some of your body can be hidden underwater or with bubbles which can seem less exposing or contrived. It's also easier to imagine being together and you're both immersed in the same sensations.
Rubbing your body for another to watch might seem odd, but using soap to rub your body in the bath makes more sense to do so you might not get hung up on it. Being in the bathtub also gives easy access to a massaging showerhead for masturbation (if you have one), and you can introduce a waterproof sex toy to amp up the pleasure without having to show your submerged body on camera.
11. Touch Yourself
Since long distance video sex with your partner is a separate but together activity, touching yourself is the name of the game. Sometimes you'll be taking the place of your partner touching you, perhaps doing something in the way you know they would do it. Other times youll be all about doing it the way you like it, with your partner getting the chance to watch and do the same to their own body.
Slow down and explore your body. Figure out what feels best and what really gets you going. Maybe you like a slow build, maybe the faster the better, maybe try a vibrator if you've never used one before - or treat yourself to a new one for some fresh sensations.
Choose a new lube and have a video masturbation session to try it out at the same time. Compare notes afterward. If you're not sure which lube to try, Trojan™ makes several types of lube to bring the pleasure.
12. Use a Sex Toy on Yourself
Adding a sex toy to your video sex hookup such as a pleasure sleeve, dildo or vibrator can increase the fun for you and your partner. Perhaps let your partner decide where to place the toy, when, for how long, and at what intensity.
You can also try having each of you use the same sex toy, such as the Trojan™ Ultra Touch personal massager and touch the same body parts on yourselves at the same time. Try nipples, inner thighs, the perineum (aka taint, the space between the anus and your genitals) and wherever your imagination takes you.
13. Play Sexy Games Together
Video hookups are a great time to play some sexy games.Try some of these options:
Play a virtual game of strip "Never Have I Ever," strip poker, "Truth or Dare," 20 questions or adapt any online or board game you can play together to have a sexy component. Agree ahead of time what the loser will do, either following the game on video or the next time you see each other in person. You can also start these kinds of games over texting or sexting and then continue or share the payoff live over video.
Take on a persona and roleplay a couple from a movie, TV show, book, or time period. Sure you can go for knight and noble, pool boy and vacationer, stable boy and prince or princess, suitor and debutante, pizza delivery guy and lonely hungry person or another trope. Or try re-enacting a favorite erotic scene from the latest Netflix obsession or another favorite media. You can also try shipping two characters you think should be together. Now may be the opportunity to see what happens when your favorite heroes finally cut through the tension and take each other.
Stripteases are always good. Try them simultaneously or alternately and maybe even test out some of your TikTok dance skills. Try tossing the clothing items you remove at the camera and experimenting with close-up shots and full-body perspective.
14. Virtual Cuddles and Afters
Don't forget what happens after each of you comes from your virtual hookup. Just as you might after in-person sex, stay with each other for pillow talk, appreciations and debriefing. Instead of hanging up right away once the sex is over, consider getting under the covers and then talking or reading together, or transitioning to your next activity such as going to the gym or back to work, etc. Make the ending normal, like you might after an in-person hookup.
Alternatively, if you prefer, long distance sex makes it easy to turn off the screen and be alone after. Just talk to your partner to see what they want to do so you don't put your pants on and leave too quickly or overstay your welcome.
Long Distance Sex Plus Condoms, Lubes & Vibes
You don't need a condom when you masturbate alone or together with a long-distance partner over video. Masturbation and virtual sex are the safest forms of sex out there. There's no risk of STDs, no risk of unintended pregnancy, and no risk of spreading COVID-19 through saliva, feces or breathing the same air when you solo play. Plus, you know what feels best, and if you haven't figured that out yet, may we suggest that you seize this ... opportunity.
Try a Trojan vibrator or lube to add variety and sensation to your long distance hookups.
Whatever your preference, be sure to wash your hands and sex toys with soap and water for at least 20 seconds before and after sexual activity, whether in person or over a video call. That's just good practice any time!
Next time you are able to be together, be sure to grab your favorite Trojan condoms to keep you and your partner protected and satisfied.