Product 101
Choosing the Right Vibrator for You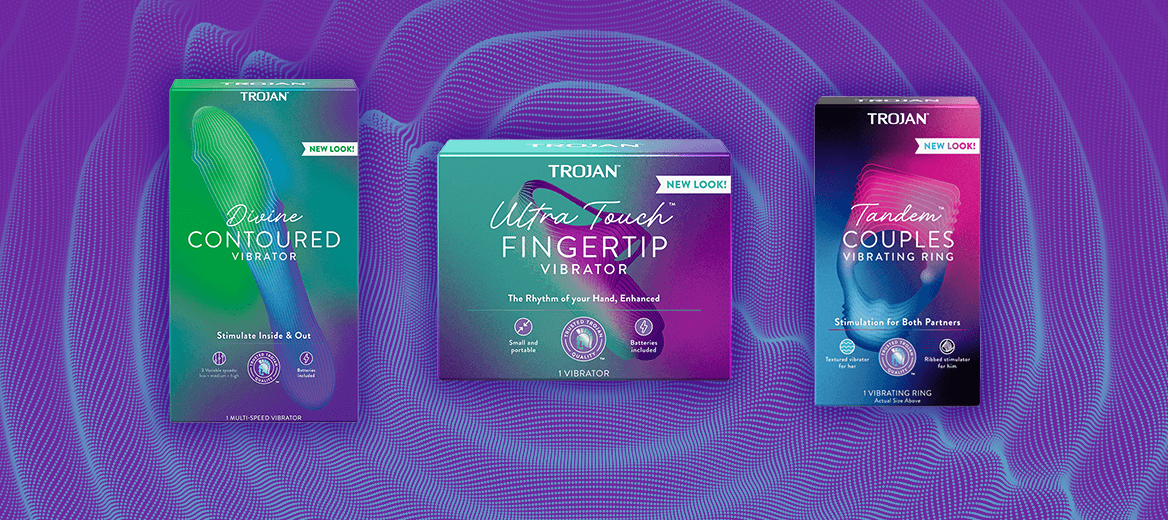 Sometimes you want to add a little something extra to your love life. Maybe even shake things up a bit - literally. Sex toys could be just the thing you're looking for. Trojan offers several types of vibrators that help bring the magic to your solo and partner play.
What Is a Vibrator?
Vibrators, also called personal massagers, are electric or battery-operated sex toys that provide stimulation for erotic play. Vibrators add pleasure to foreplay, masturbation and intercourse for all genders and can lead to more intense orgasms.
While all vibrators do essentially the same thing (vibrate), they come in a variety of shapes, sizes and configurations. Trojan vibrators have adjustable speeds and specially designed features to create rousing good times.
How to Pick a Vibrator - So Many Choices!
Picking a vibrator can seem overwhelming, especially when trying to choose one for the first time. Determining where you enjoy stimulation most can help with the decision.
Some vibrators are designed for external play and others for internal stimulation. Some are made for penetrative and surface use -- simultaneously! There are models that can be used all over your body and others that target specific, sensitive areas. When it comes to vibrator sex toys, you have plenty of choices. Common types of vibrators include wands, rabbit-style, vibrating bullet or egg, dildos, cock rings, clitoral vibrators, anal beads, butt plugs, and g-spot stimulators. There are even vibrators designed to provide pleasure for you and partner at the same time, or that you can control remotely to tease your partner or send them over the edge when you choose.
If you're new to vibrators (and even if you're not), knowing about the different types can help you determine which one to try first and which ones to add to your wish list for later.
External Vibrators
As the name implies, external vibrators are designed for use on outside areas of the body like the clitoris, vulva, penis and scrotum. But pleasure isn't limited to the genitals. The entire body is home to a network of nerve endings just waiting for discovery and exploration!
Trojan™ Power Wand Deep Vibrations Massager can be used all over the body. Think beyond the sexy bits to other erogenous zones like the neck, inner thigh, back of the knees, breasts and nipples. etc. Wand vibrators, with their longer handles, can also help extend your reach in solo play.
Trojan™ Pulse Compact Vibrating Massager lets you direct the pleasure right where you want it most. It can deliver intense, focused stimulation, and the soft silicone tip is designed for clitoral stimulation.
Internal Vibrators
Internal vibrators are made for insertion and designed to enhance pleasurable penetration of the vagina, anus or both. Some internal vibrators are shaped like a penis or a long phallic shape - these are the ones you'll hear called a dildo. Other types of internal vibrators include vibrating bullets or eggs.
Internal vibrators can be used for depth play or to stimulate the G-Spot or P-Spot (prostate). They can be made of silicone, glass, or plastic. You can use them during foreplay, oral or penetrative sex with your partner, or reach for them whenever you're in the mood to get off.
Trojan™ Divine Multi-Speed Vibrating Massager is a dildo made of soft-touch silicone and designed with contours and ridges that make it perfect for internal and external stimulation.
Some internal vibrators are known as G-spot vibrators because they have an upward curve on the end. This design targets the G-spot area which is located along the front inner wall of the vagina.
Several nerve endings in the anus can produce immense pleasure and orgasm in people of all genders. Anal vibrators are designed for anal pleasure and have a flared or wider base for easy retrieval. Some are shaped for precise prostate (P-Spot) stimulation.
If you're using an internal vibrator for vaginal or anal play, make sure you have enough lube on hand to make it comfortable. Only use water-based lube with silicone sex toys.
Wearable Rings
Vibrator rings are designed to be worn on the body. Some are made to be worn on the finger and others on the penis. Penis rings can also be worn with condoms, just make sure to put the condom on first. In partner play, penis rings can provide fun for both the wearer and their partner. They can also be placed on strap-ons and dildos - they don't discriminate ~wink.
Trojan™ Ultra Touch™ vibrator attaches to a finger - your own or your partner's - for the flexibility and rhythm of internal and external fingering, enhanced by strong vibrations. Try it for couples play and trade off who gets to wear it and who gets to experience it.
Trojan™ 2-in-1 Vibrating Ring + Finger Massager doubles the pleasure. It can be used as a finger massager during foreplay and to amplify pleasure as a penis ring during intercourse. It's textured for maximum contact and sensation.
Trojan™ Multi-Speed Vibrating Ring provides the ultimate shared pleasure for couples with vibrating sensations for each of you. The adjustable settings keep the pleasure spontaneous as you dial it up, down, or up again.
Trojan™ Tandem™ Couples Vibrating Ring is designed to stimulate both partners simultaneously. The invigorating vibrating massager and textures will delight you and your partner with every stroke.
Combination Internal-External Vibrators
Some vibrators are designed for either internal or external play -- or a combination of both. These talented vibrators go both ways, depending on your mood or how intense you want to be. "Rabbit" vibrators stimulate the vagina for penetrative play while the shorter portion stays on the outside for direct clitoral contact. Combination orgasm, anyone? Yes please.
Bullet vibes and vibrating eggs can be used externally or inserted to stimulate the G-spot or P-spot. The Trojan™ Vibrating Bullet is a remote control bullet vibrator that is perfect for partner play. The remote allows you to be in control, or let your partner play with you for double the fun!
Vibrators can open a whole new world of orgasmic pleasure and we can help you learn how to use your vibrator. Once you pick your sex toy, your mission, should you accept it, is to relax, get comfortable, and let Trojan vibrators rock your world.