Product 101
The facts about thin condoms: all about safety and sensitivity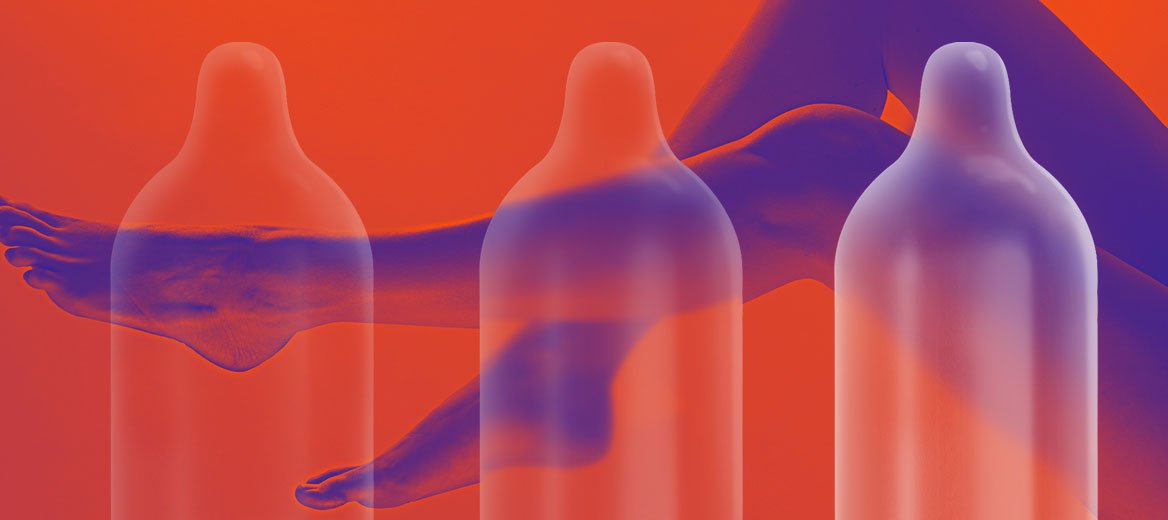 Thin condoms are all the rage. Hey, the closer to raw a condom can get, the better, right? But you've got questions about thin condoms such as: Are they reliable? Do they break more often? And do thin condoms even work and can you tell the difference?

Trojan™ BareSkin™ Raw™ is America's thinnest latex condom*, and we've got the deets – and the research – about what makes thin condoms safe and sensational.
Thin condoms vs. other condoms: what's the difference?
Thin condoms are about the same width and length but differ in the thickness of the natural or synthetic latex. Smaller, standard, and larger condoms such as Magnum™ come in thin versions.
Simply put, the thinner the condom, the less material there is between you and your partner, and that lets you get closer than ever.
Which condoms are the thinnest?
Condom thickness is measured in microns – a scientific unit equal to one-millionth of a meter or 0.00003937 of an inch. Using this measurement, America's thinnest latex condoms are Trojan™ BareSkin™ Raw™.
Here's how the thinnest Trojan™ condoms compare: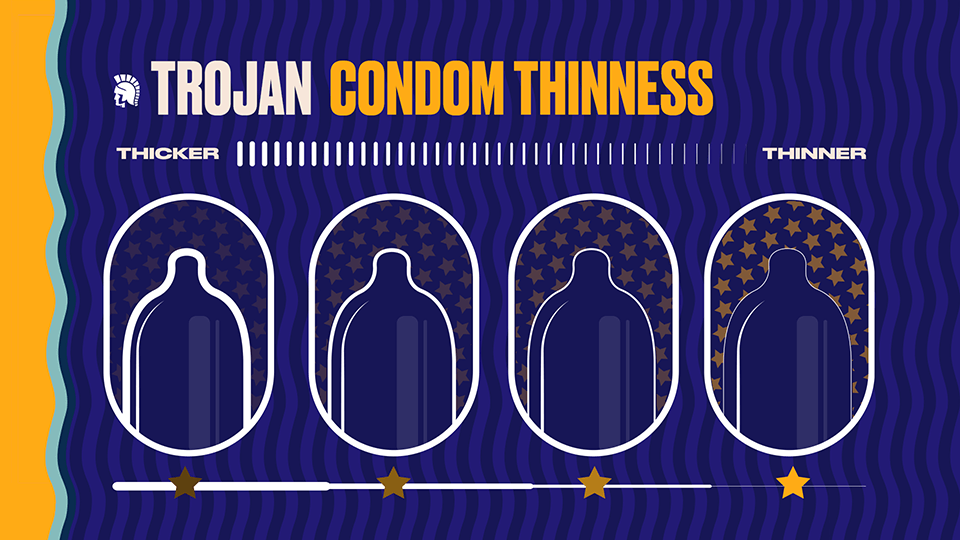 So, does a couple microns really make a difference in how a condom feels? That's kind of like asking if something as small as a pinch of salt can make a difference in a recipe. Sometimes it's just a tiny tweak that takes something from pretty good to oh, yes. You might not be able to see the difference between a thin condom vs. a standard one,(microns are smaller than you can see with the naked eye) but it's about feeling the difference. But not with your naked … eye.
The goal of thin condoms is to put as little as possible between you and your partner for maximum feeling without compromising protection and reliability. When it comes to your orgasms, we're shooting for that extra sensation to send them over the top. Thinner condoms means more sensitivity and well, more is MORE.
Do thin condoms make a difference?
Many people believe that thinner condoms allow you to feel more heat and sensation. And America's thinnest latex condoms are Trojan™ BareSkin™ Raw™.* For a barely there condom experience that gives the most feeling and sensitivity, thin condoms may feel not just better, but the BEST for you.
Our engineers have outdone themselves stretching latex to the thinnest, making it possible for you to outdo yourself when it comes to performance and pleasure with Trojan™ BareSkin™ Raw™.



Still not convinced thinner condoms can make a difference? We challenge you to try them.
Yes, but do thin condoms actually feel better?
Although we know thin condoms allow for more sensitivity, everyone is different. Some people prefer how a slightly thicker condom feels, especially if you're going for sensation such as with Trojan™ Ultra Ribbed or wanting to last longer. That's why we make more than one type of condom, and even more than one thin condom.
Condom thinness is just one part of how a condom feels. For maximum feeling, be sure you choose a condom that fits you, and take into account condom shapes and other features that can ramp up sensation and sensitivity, such as ribbing, studding, and lube.
There are Trojan™ thin condoms in several sizes and styles, including Magnum™ Thin and Magnum™ BareSkin™ for those who need a larger fit.
Do thin condoms work and are they safe?
Yes and yes. Thin condoms are as effective at preventing sexually transmitted infections (STIs) and pregnancy as standard condoms and the FDA holds thin condoms to the same testing standards.
Do thin condoms break more easily?
When condoms are thinner than the width of an average human hair, you might worry they aren't reliable. The truth: Trojan™ condoms are triple-tested ensuring reliability.
Check out these facts. Our thinnest Trojan™ condoms, Trojan™ BareSkin™ Raw™ are tested to:
Hold nearly 5 gallons of air, more than the amount to inflate a basketball
Hold 10 ounces of liquid -- almost an entire beer or soda
Bottom line: condoms are tested to withstand way more pressure, volume, and stretchiness than they will ever get in their typical use. Of course, as with any condom, breakage is unlikely but possible if the condom doesn't fit well, isn't put on and/or stored properly, or you're being particularly vigorous and athletic.
Check any condom for breakage before and during use and use a new one if you're switching positions a lot, going for a marathon session, or if you go from back door action to penis-in-vagina.
And with a thin condom (or any condom), make sure you check the expiration date and package before you put it on and store condoms properly.
Ready to Try a Thin Condom?
Trojan™ has America's thinnest latex condoms, Trojan™ BareSkin™ Raw™*, plus many others available in tons of shapes and sizes to fit you and your partner's parts and preferences. To purchase thin condoms, shop online or visit a store near you.
*Among leading brands