Product 101
Using Condoms on Shared Vibrators, Dildos & Sex Toys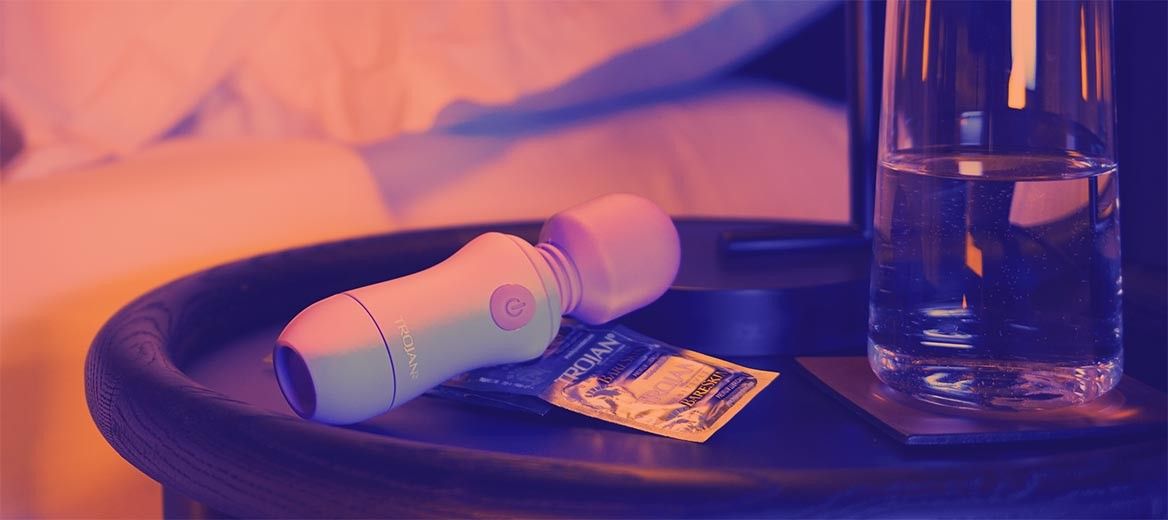 We've all been taught that sharing is caring but when it comes to sex toys, is it really a good idea to share, even with our partners? ...also shares germs, but that doesn't mean we have to keep our toys to ourselves-we can avoid spreading germs by cleaning the toys really well between uses or by using condoms on dildos and wand vibrators.
This article includes all you need to know about keeping your sex toys clean and why condoms, vibrators and lube make a really great team.
Should You Share Sex Toys or Vibrators?
Sharing sex toys is okay as long as you make sure to clean them or use a new condom on them any time they move between partners or between orifices. You should wash or put a new condom on any sex toy that has been used in the anus before using it anywhere else, even if it's on the same person.
Sharing sex toys comes with the risk of STIs or other infections because germs from your genitals or anus can get on the vibrator or dildo and be transmitted to the partner who uses the toy next. These can be the germs that cause sexually transmitted infections (STIs) or ones that lead to yeast infections and urinary tract infections.
The one exception to this sharing rule may be masturbation sleeves made for people with penises. These are usually made out of very porous material that is hard to clean. If you don't want to use a condom with these, it's probably a good idea for each person with a penis to have their own sleeve. Or you could try Trojan Tantrix™ which is designed for one-time use.
Should I Use a Condom on a Sex Toy or Vibrator?
Yep, condoms aren't just for penetrative sex with a penis-they can serve as a protective cover for your favorite sex toy too. You can even use them on toys you don't ever share to save yourself some of the trouble of clean up.
Bodily fluids, bacteria, and viruses can get on sex toys when they touch your genitals or anus, including the germs that cause STDs. Other germs, like e-coli, can also be passed from your anus to your genitals, which is a common cause of UTIs especially in people with vulvas. Using a condom on a shared sex toy or vibrator helps prevent STIs and other infections by providing a barrier so germs aren't passed to the next partner or partners who use the toy with a new condom.
When Should I Use a Condom on Vibrator?
It's important to use a condom any time a sex toy will be shared between partners. Also, consider using a condom if you're using a sex toy for anal play-even if you're all alone-to prevent the germs from the anus from being pushed into the vagina or urethra or for easier cleanup.
You can always wash your vibrator between partners or orifices instead of using a condom but getting up to go to the sink can interrupt the moment a lot more than grabbing a new condom from the night table drawer.
Also know that sex toys are made of different materials and some are harder to clean. Sex toys made from vinyl, rubber, or jelly rubber are more porous than those made out of harder materials (like silicone, glass, or metal) and germs can get trapped in those pores even if you clean your toy soon after sex. Some people suggest always using a condom with porous sex toys just for this reason.
How to Use a Condom on a Vibrator
It's easy to put a condom on a sex toy that is shaped like a penis. Put the condom on the top of the vibrator or dildo and roll it all the way down the same way you would over a penis. Take it off and get a new condom every time the toy is going from one partner to another or after any anal use.
Condoms are very stretchy so they can also fit over toys of other shapes like wands meant for external use or eggs that go inside the vagina. If the condom is much longer than the toy, consider tying it on the bottom. You may have to get creative with certain shapes - like putting the finger vibe on your finger and then putting a condom on that finger.
Which Condoms are Best for Sex Toys
Choosing a condom for your dildo or vibrator should be easy as the toy doesn't have its own opinion about what feels good. A straight-walled condom is probably best and bigger isn't necessarily better as you want the condom to fit tightly over the whole length of the toy.
Latex and polyurethane condoms are fine for using with sex toys but remember, natural lamb skin condoms don't protect against all STIs.
As for the bells and whistles, choose your favorite, such as a condom with some well-placed studs to add to the experience. And as we discuss below, don't forget the lube.
Using Lube with Your Vibrator or Sex Toy
Whether you're using a sex toy alone or with a friend, a little lube can make the experience even better. Lube can help you avoid friction when using a toy inside your vagina and is an absolute must if you're using a butt plug for anal penetration. The anus doesn't produce any lubrication of its own and without lube, penetration can be uncomfortable. Lube also works well with masturbation sleeves and clitoral stimulation toys.
To pick the right lube, you just need to know what your sex toy is made out of. Water-based lubes work for all sex toys, but you shouldn't use silicone sex toys and silicone lube at the same time (it may lead to small tears on the sex toy which can trap germs). And, if your sex toy is made of latex or you're using a condom on it, avoid oil-based lubes.
More Fun with Lubes & Vibes
Whether you have a regular partner, are dating multiple people, or are engaging in some solo-love, vibes and lube are a great addition. Be prepared for a night of fun by buying your favorite Trojan products ahead of time online or at a store near you.