Product 101
Picking a Vibrator or Sex Toy with Your Partner for Powerful Partner Pleasure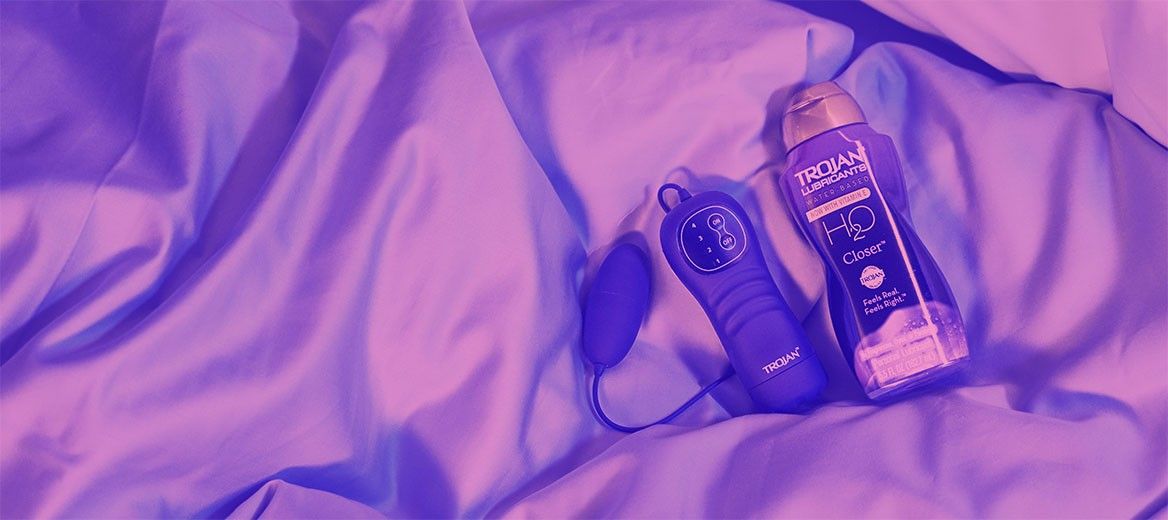 We often associate vibrators and other adult toys with masturbation and may mistakenly think that toys are only for when we're alone. But using toys in a relationship with your partner can add to the fun. A lot of toys are designed to be used together-some popular partner toys include vibrating rings, remote control vibrators, and finger vibes.
Couples of all genders and sexual orientations can enjoy using sex toys on and with each other. Which one you choose likely depends on the body parts you and your partner have, whether you like internal or external play, and if you're interested in butt play.
Here we share some of our favorites and some tips and tricks for using toys for two.
How to Bring Up Sex Toys with a Partner
Most people have used sex toys at some point in their lives but there are still some taboos that suggest sex toys are only for the lonely or people whose partners aren't that good in bed. These simply aren't true! Don't be shy about wanting to bring a sex toy into your couple's play but do try to be sensitive if your partner's first reaction isn't pure enthusiasm.
Here are some tips for talking to your partner about introducing adult toys into your sex life:
Pick a neutral moment. If you think your partner might be hesitant, try not to bring it up right before or right after sex. Instead, pick a neutral moment to take their temperature on the idea.
Provide reassurance. Start by telling them how sexy you think they are and how much you like the sex you're having. Remind them that this is about adding to the pleasure you already give each other and not an attempt to replace them with a battery-operated alternative.
Focus on them. You may be the one who is looking forward to the added buzz, but if your partner needs convincing, put their pleasure front and center. Tell them what you want to do to them, what you want them to do to you, and how just thinking about it is getting you turned on.
Best Vibrators for Couples
There are many ways that couples can enjoy using sex toys together and we've got lots of ideas to get you started below. But before we do that, here are some of our favorite sex toys to use with a partner.
Vibrating Ring
What is a vibrating ring? A ring sex toy is a small bullet-shaped vibrator that is attached to a soft, stretchy silicone ring that goes around the base of a penis (or a strap-on). This can stimulate the penis during any kind of sexual activity. If it's used during penis-in-vagina sex, the vibrating part can also stimulate the clitoris.
How to use a vibrating ring? Slip the ring over the penis to the base and then carry on with whatever sexual activities you had in mind. If you're having vaginal sex, make sure to turn the vibrating part toward the clitoris. Some vibrating rings have two pieces that vibrate; one for each partner. Play with the position of the ring until it gets to a good spot for all.
Try the Trojan™ Tandem™ Couples Vibrating Ring or 2-in-1 Dual Use Vibrating Ring & Finger Massager
Remote Control Bullet Vibe
What is a remote control bullet? Bullet vibrators are classic toys that are small and discreet. On Trojan's remote control bullet vibe, the buttons to turn it on and off are on a short leash that stays outside the body even if the vibe goes in.
How to use a remote control bullet. The bullet vibe can be used internally or externally. Wherever you decide to put it, try letting your partner use the remote control to set the speed and sensation. Not being in control is part of the fun.
Check out the Trojan™ Vibrating Bullet for fun partner play
Wand Vibrators
What is a wand vibrator? Wands are classic vibrators with a wide top designed for external stimulation on the penis, anus, perineum, vulva, or clitoris. Trojan's Power Wand is cordless and made of smooth silicone.
How to use a wand vibrator? This one is easy, find a good spot and turn it on. You can put it on the bed and position yourself on top of it for hands-free fun or let your partner get between your legs and move it around until they find the exact right position.
Try the Trojan™ Power Wand Deep Wave Vibrator
Finger Vibrator
What is a finger vibrator? Fingers vibes are usually small bullets with a little place for your index finger to slip in so that you wear it for easy positioning on your partner's body (or your own).
How to use a finger vibe? Slip your index finger into the opening, turn it on, and then touch your partner anywhere or everywhere. The finger vibe gives you pinpoint precision whether you decide to go for the clitoris or the perineum.
Try the Trojan™ Ultra Touch™ Fingertip Vibrator
G-spot vibrators
What is a g-spot vibrator? Some internal vibrators are specially designed with a curve that is meant to hit the g-spot-a spot on the front wall of the vagina that can lead to intense orgasms when pressure is applied directly. Some g-spot vibes-often called rabbit vibes-also have a piece that stays outside to stimulate the clit directly.
How to use a g-spot vibrator? Insert the vibe into the vagina with the curved side up so it's pointing toward the belly button. Try moving it in and out until you find just the right spot.
Try Trojan™ Divine Contoured Vibrator
App-Controlled sex toys
What is an app-controlled sex toy? Teledildonics (also called cyberdildonics) is a real word and a real thing. All kinds of toys (vibrators, eggs, butt plugs) are now Bluetooth enabled so they can sync with apps on your smart phone. This means that you or your partner can control the sensations each other feels from the next room, the next town, or all the way across the country.
How to use an app-controlled sex toy? These may have a slightly higher learning curve and you'll have to download an app for your phone, but once you get it set up you can start playing with your partner from near or far. Get the night started early - have your partner wear a vibrating egg when you go out to dinner and turn it on from your seat before dessert is done.
Butt plugs
What is a butt plug? A butt plug is the most common toy for anal play. These toys come in a lot of shapes, sizes, and materials, and some of them also vibrate. The one thing all butt plugs have in common is they all have a piece that goes inside and a wide base at the bottom that stays outside the anus. (This is very important because objects without a base can get stuck or lost inside the rectum which is a situation that requires immediate medical attention.)
How to use a butt plug? A butt plug is meant to be inserted into the anus and can be used on any partner regardless of gender or sexual orientation. Make sure to use a lot of lube because the anus is sensitive and doesn't make any lubrication of its own. Start slowly and keep checking in with your partner to make sure it feels good.
Sex Toys designed for couples play
What is a sex toy designed for couples? First off, any sex toy can be used for couples play with one partner using it on the other or each partner using their own toy on the other at the same time. There are also a bunch of different toys designed for couples to share a single toy at the same time and toys for different bodies playing together.
For example, double-ended dildos are designed for simultaneous penetration play to stimulate the g-spot (from the vagina) or p-spot (from the anus) on each partner. There are also double-ended vibrators with a wand on one end and a dildo on the other for an external-internal partner pleasure combo, or double-sided wand ends that can work great on partners with vulvas or couples where each person is into external play.
Shopping for Vibrators and Sex Toys With Your Partner
After you and your partner have decided to bring a toy to the bedroom, it's time to go shopping! Find Trojan™ vibrators & sex toys-and a pleasure-enhancing Trojan™ lube-near you with our in-store locator or buy online.
Using a sex toy is an art that gets better with practice. Don't worry if it was a bit awkward the first time or didn't blow you away. Talk with your partner about what worked and what didn't, and try some of our favorite sex toy tips to improve your technique or reach next-level pleasure.
Using Condoms on Shared Sex Toys, Vibrators and Dildos