PRODUCT 101
How to Use a Vibrator or Sex Toy with a Partner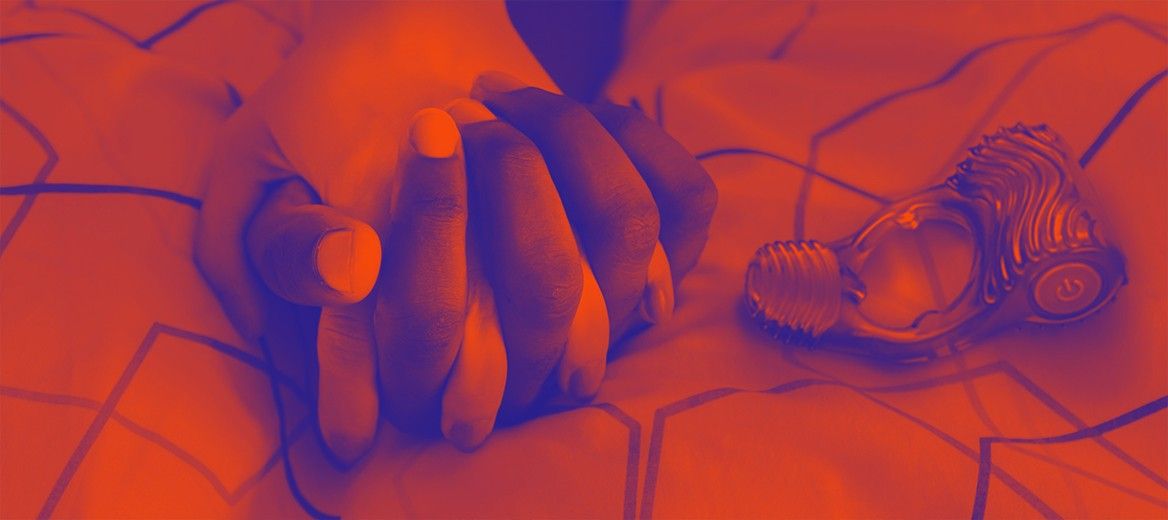 Whether it's to lengthen foreplay or make the buildup more intense, there are plenty of ways to incorporate a sex toy or vibrator in the bedroom with a partner. You both can benefit from experimenting with different kinds of toys, using them on each other, and trying them in different positions.
The possibilities for using couples sex toys in a relationship are almost endless. Wherever you touch or stroke your partner with your fingers, you can also use a toy. You can use toys externally or slip them into a vagina (with consent, of course) for internal stimulation. You can play with one toy at a time, or you can each have a toy in hand for simultaneous play.
We've compiled some of our favorite tips for how to use a sex a toy with a partner below. Try them out for levelled-up pleasure and new sensations.
Different Ways to Use Sex Toys for Couples
The best way to figure out what works for you (and your partner) is to experiment. Here are some fun ideas to get your started:
Use a finger vibe (and your fingers). Bringing your partner to orgasm with your fingers can be one of the most intimate and sexiest of experiences and finger vibes, like the Ultra Touch™ Personal Massager, can help you do it. If your partner has a vulva, work your way around in circles starting from the outside and getting closer and closer to the clitoris. Put one or two fingers inside their vagina for extra stimulation. If your partner has a penis, use the finger vibe on their perineum, the sensitive area between their balls and their anus. Wrap your other hand around their penis and give them an old-fashioned hand job, with a buzzy twist.
Use a vibrator during oral sex. Double the sensations your partner is feeling by using a vibrator during oral sex. If your partner has a vulva, insert a vibrator, like one of our favorites the Divine™ Multi-Speed vibrator, into her vagina while you use your tongue to explore all the ins and outs of her vulva and clitoris. If your partner has a penis, hold a bullet or wand vibrator at the base of their penis while you put the rest of the shaft in your mouth. Or try this funny trick-put a vibrator against your cheek while their penis is in your mouth.
Use a vibrating ring during penetrative sex. Vibrating rings like the Tandem™ Couples Vibrating Ring are a good couples vibrator since they can stimulate both you and your partner. They can be especially good for women who experience pain during penetration or have trouble orgasming from penis-in-vagina sex. Position the vibrating part of the ring so that it stimulates the clitoris either directly or indirectly. Vibrating rings can also add pleasure to the penis-haver wearing them and can be used during anal sex as well.
Use a butt plug or anal beads during oral sex. For couples interested in anal play, butt plugs can be a good addition to your repertoire. Use a vibrating butt plug on the outside of the anus or insert it all the way in while you lick their vulva or penis. Or you could insert anal beads before going down on them and pull them out one at a time while you give head. The added sensation can send your partner over the edge. (Just remember that the only toys meant for anal play are the ones that have a base or handle that stays outside.)
Use your own vibes for mutual masturbation. Mutual masturbation can be really fun-watching your partner get themselves off can be an erotic and educational experience. It can help you learn what they like so that you can have more tricks up your sleeve the next time you take a turn at getting them off. Adding toys to the equation just makes it hotter and more interesting. You can each grab your favorite toy from the goodie box and sit facing each other while you bring yourselves to a most satisfying orgasm.
Best Vibrator Positions for Optimal Pleasure
The best positions will depend on what you're planning on doing, what furniture and props you have available, and how bendy you and your partner are feeling that day. Here are a few you might try when you're using a vibrator for two:
Sit on it. No seriously. For great external play, especially for people with vulvas, put the vibrator on the bed and start humping the toy. Your partner can watch, play with their own toy, or add some fingers to the experience.
Put it between you. Want a really sexy snuggle? Lie down on your side facing your partner. Put a small vibrator up against your genitals and wrap your legs around their legs. Move your hips back and forth against their leg and let the toy do most of the work.
Edge of the bed. One partner lies at the edge of the bed with a pillow under their butt to raise them up just a little bit and the other stands or kneels on the floor with control of the toy. This is a great position for exploration.
Doggy style. This classic position works great for using a toy externally or internally on a partner with a vulva. And it is a great one for anal play with toys as well.
Tips & Techniques for Couples Vibrator Play
Like any other kind of toy, sex toys are meant for play. Fun, sexy experimentation is the name of this game. Pick a few new toys and see what they can do for you and your partner. Keep these tips in mind:
Go Shopping Together. Build the anticipation by going shopping together. Browse the aisle of your pharmacy, take a field trip to your local sex store, or cozy up on the couch and surf the web. Talk to each other about what you might do with each toy you find.
Tantalize and tease. Sure, sex toys will probably end up between your legs, but there's no need to dive right in. See how the smooth silicone feels on your nipples. Run it down your partner's whole body from their shoulders to their toes. Or park it very close, but not on, their genitals for a few minutes.
Use the bells and whistles. Many vibrators come with multiple settings. You can make it go fast, slow, or somewhere in between or you can make it pulse on and off by itself. Try them all to vary it up, even if you instantly have a favorite.
Add a little lube. Most vibrators are smooth to the touch but whether you are using them internally or externally adding lube can make it feel even better. Smooth and slippery are a great combination. If you're using a butt plug for anal play you will definitely need to add extra lube as the anus does not make any of its own. Silicone lube may degrade silicone toys over time so stick to something water-based to be safe.
One note about safety as you begin to play, sharing sex toys with your partner is fun but it can spread germs back and forth including the bacteria and virus that cause STIs and the ones that can lead to yeast infections and urinary tract infection. Stay safe by washing the toy before you pass it to each other or using a condom as a protective cover and change it between partners. Always wash a sex toy after anal use even if you are going to use it on the same partner. And wash them carefully before you put them away.
Couples Play with Sex Toys in the Bedroom
It turns out, you're never too old to play with toys. Talk to your partner about adding a sex toy (or two or three) to your routine. Build the anticipation with a shopping trip (in real life or virtual). Use the toys on yourself while your partner watches or on each other. And experiment with what feels good. Trust us, playing with toys has never been this much fun.